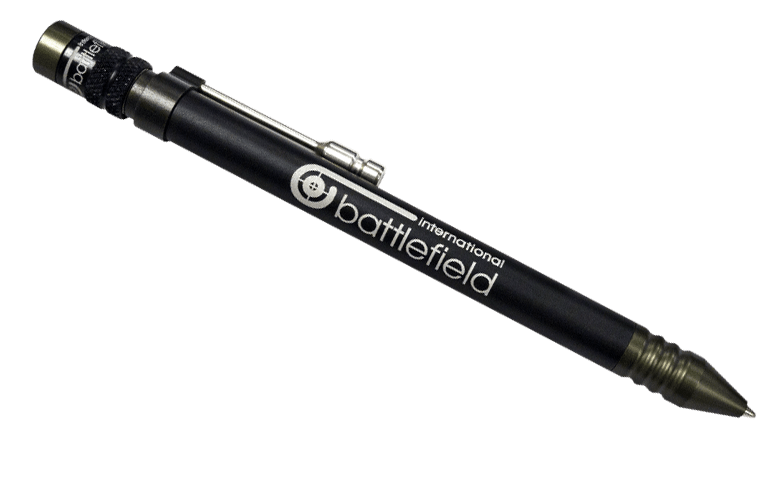 Battlefield International arrived at the 2013 AUVSI Unmanned Systems trade show in Washington DC with what was arguably the most well received promotional hand out of the entire event. Our original goal was to hand out something produced on our equipment in house that would be usable by anyone while at the same time assist us in marketing our EnduroLink fuel coupler. We designed and produced a unique machined pen that utilized our actual EL01Y EnduroLink locking sleeve assembly to retract the ink cartridge.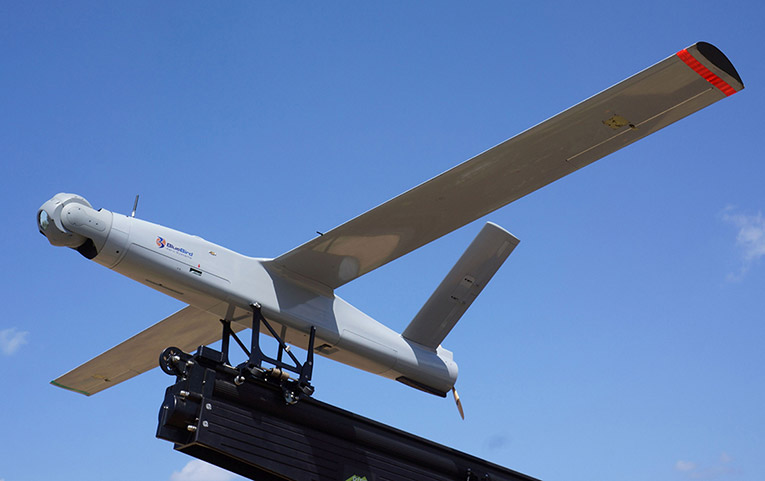 Battlefield International Inc. has received our first order from Bluebird Aero Systems of Israel. Bluebird has selected EnduroLink fuel couplers and other Battlefield fuel systems products for their world class UAV program. We are both proud and excited to be marketing into Israel directly for the first time. Bluebird is known as a UAV company that continually presses forward with radical innovation and with that in mind, we see our new business relationship with them as a perfect fit.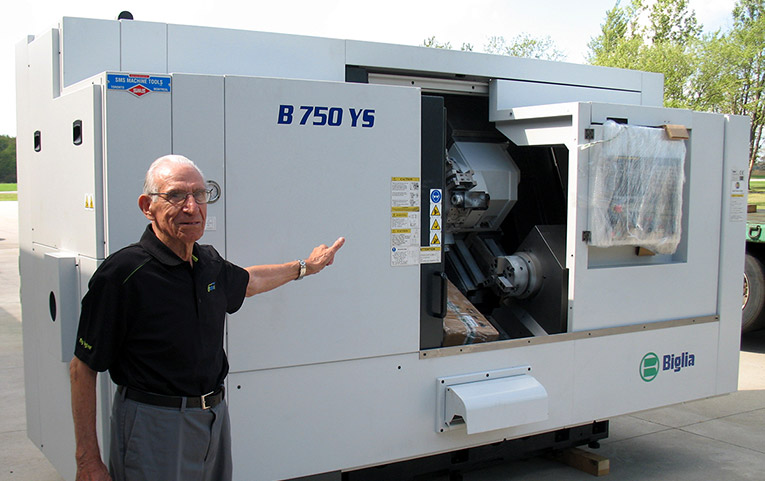 Our George Wozny (affectionately known as Mr. W), has supported our company and our owners entrepreneurial efforts since 1987. He has been a crucial part of our team from the very beginning and today at 90 years young, his enthusiasm is infectious. Mr "W" was with us when we received our first CNC lathe in 1997 and he is "on the job" as our latest machine arrives 18 years later. We were delighted that he was on hand to receive our first EuroTech. We are excited about the increased production capability this new advanced lathe will enable our firm. Here is a rundown of the key machine characteristics we are looking forward to tapping into: 1. Increased bar feeding capacity to 4" diameter enabling the efficient production of large parts. 2. 23hp, 10,000rpm live tooling gives us the power and speed to mill both aluminum, stainless and hard steel efficiently. 3. High horse power main and sub-spindles will allow us to machine parts quickly and fully completed in one setup. 4. A full 6 inches of Y axis travel allows Battlefield to produce a much broader and more complex range of components. 5. Box-way X and Y slides provide the rigidity to handle tough materials with tight tolerances.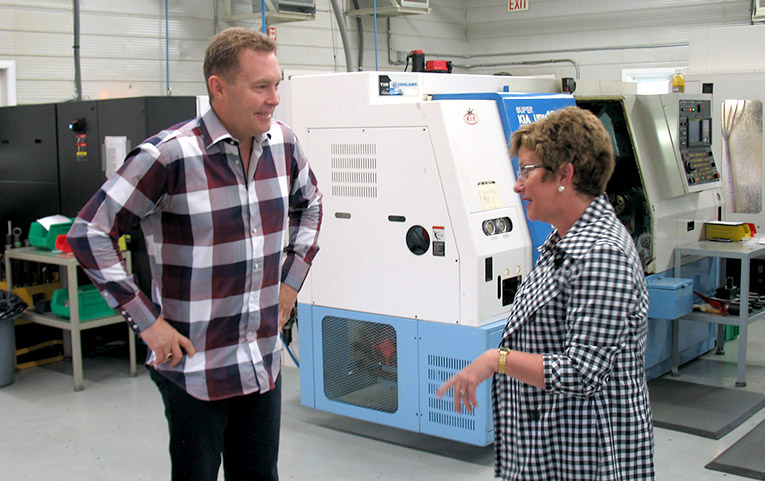 Battlefield International was visited by Haldimand - Norfolk MP Diane Finley on September 22, 2015 while she was on her campaign trail. After a tour that included individual visits with staff members in the plant, Minister Finley spoke to all employees in our staff lunch room. Among other things, Minister Finley pointed out that the Conservative government has cut taxes for small business to assist manufacturing facilities like ours to remain healthy in difficult times while also fostering an environment that better enables new job creation. Our company has benefited through Minister Finley's leadership and assistance over the past several years while she has been in office. She has assisted us in understanding and implementing all of the requirements to market our Canadian designed and manufactured products to the US military. Minister Finley made it clear that whether or not we vote for her, it is very important that all Canadians examine the competing party platforms and to get out and vote.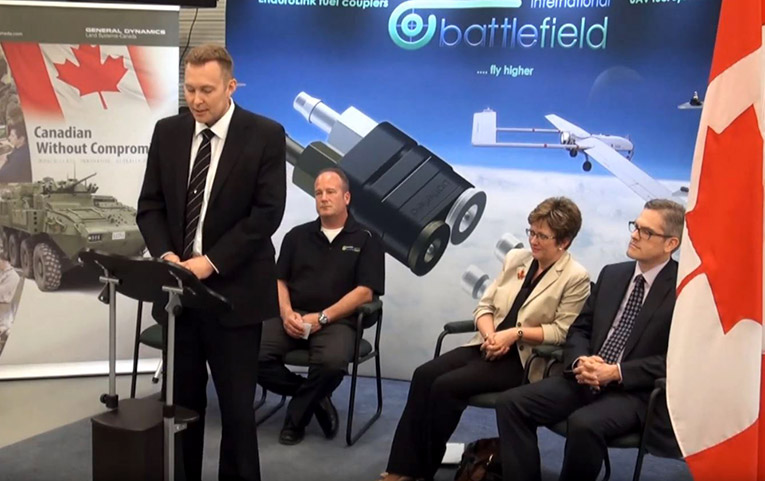 Diane Finley, Minister of Public Works and Government Services announced that Battlefield International Inc. will supply General Dynamics Land Systems Canada with the couplers required for use on General Dynamics' recent massive light armored vehicle program contract win. Minister Finley stated that this new GDLS Canada 10 billion dollar order was "The largest advanced manufacturing export order in Canadian history". The purpose of this Press release, held at Battlefield International Inc. Cayuga, Ontario on Saturday May 9th was to announce that Battlefield International had been selected to supply the quick connect fluid couplings for fuel, coolant, pneumatic and hydraulic applications required of this massive multi-year export contract. GDLS Canada sent representatives to take part in this historic event at Battlefield International Inc. The contract value to Battlefield International Inc. is significant and will create up to ten new jobs throughout the length of the contract. Steve Fenton: "We are very pleased that our entry into the Land Systems market has occurred on such a grand scale. This GDLS Canada win will certainly create an interest in our products within the entire land systems industry as new and improved products are being designed. We believe the engineering teams of all types of land systems vehicles will want to know what it was about our product features, specifications and pricing that enabled us to secure this significant contract. We will be ready to explain the advantages of all of our products suited to this industry including our products produced to MIL-DTL-25427B". Our business plan priorities moving forward will be as follows: 1. Increase our rapid experimental development capability. 2. Strengthen our existing world class UAV customer base with continued and increased experimental product development. 3. Ensure all new small to mid-sized UAV manufacturers and platforms chose our world-standard EnduroLink fuel coupler brand. 4. Satisfy the needs of our new Land Systems customer. 5. Become the dominant quick connect designer and producer within the entire Land Systems market.